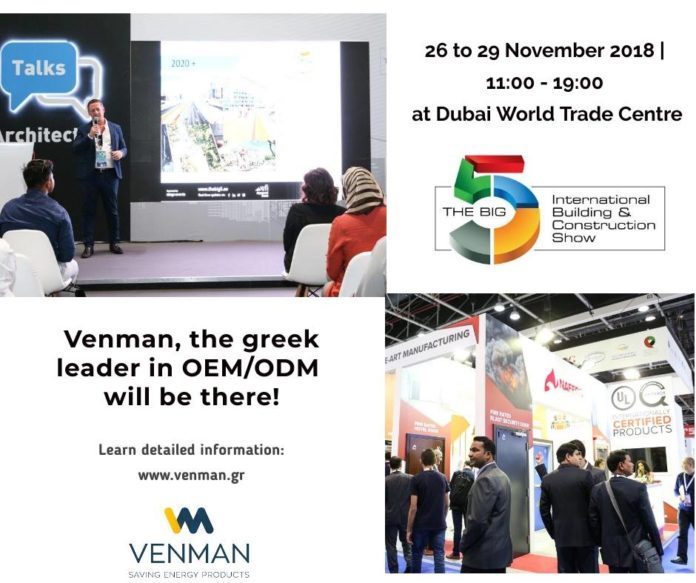 The The Big 5 – International Building & Construction Show​ is the largest construction event in the Middle East bringing together 65,000 participants making it one of the most important meeting points for the industry in the calendar.
Under the theme "Shaping the Future of Construction", the 39th edition of The Big 5 will introduce never seen before technologies and innovative solutions, organisers dmg events announce.
Running from 26 to 29 November (11:00-19:00 hrs daily) at the Dubai World Trade Centre, the event will shed light on rising entrepreneurs who promise to disrupt the construction sector.
It will address gender diversity in the workplace by supporting the women who are pushing the industry forward. Once again, it will pave the way for new partnerships and investments, connecting professionals from around the world, in Dubai.
This year, five exhibitions will run as part of The Big 5, creating one mega event for the entire construction life-cycle: HVAC R Expo – the new event dedicated to the HVACR industry; The Big 5 Solar – bringing solar solutions for construction; the Urban Design & Landscaping Expo (UDLE) – the region's only event dedicated to landscaping, infrastructure and urban development; The Big 5 Heavy – the leading event dedicated to infrastructure and heavy construction in the Middle East; and Middle East Concrete(MEC) – the region's largest event dedicated to concrete.
✔️ Venman, the greek leader in OEM/ODM will be there!
If you are interested in meeting us, please fill out our contact form: https://goo.gl/6eSnHj